The people refused to enter the promised land, for they wouldn't believe His promise to care for them. Instead, they grumbled in their tents and refused to obey the Lord. Psalm 106: 24-25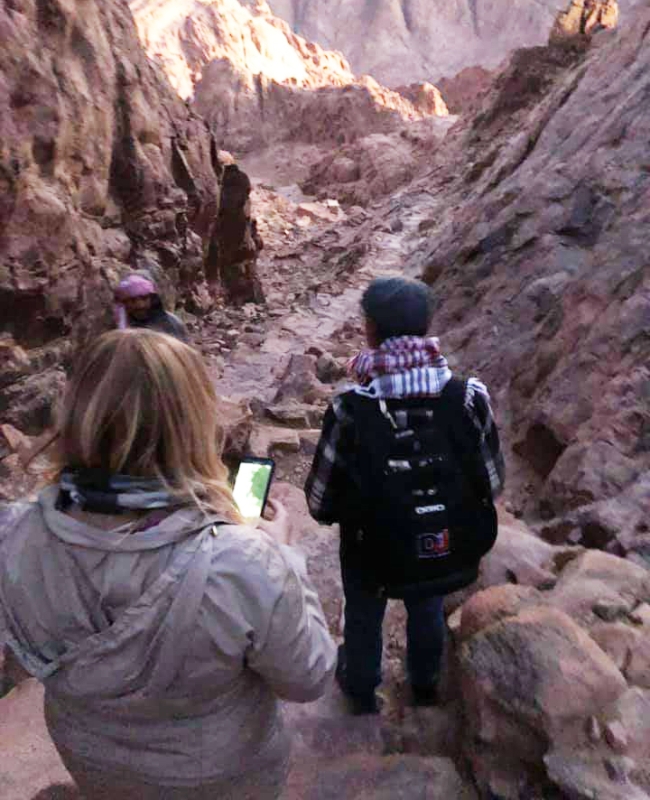 During these unprecedented times, it may seem like we are in a wilderness. Like the Israelites, we would rather grumble and complain instead of trusting God to care for us.
I believe sometimes God takes us on a journey to a new place – one that requires us to close our ears to the voices of doubt and to TRUST Him. Sometimes God will ask us to climb mountains. He may take us to places where we feel unsafe to help increase our TRUST factor. The climb can be higher and harder than expected. At times it may even seem impossible or depressing.
I was able to live out this lesson as I climbed Mount Sinai to see the sunrise on a recent trip to the Middle East and Holy Land. It was there I learned that sometimes God has me climb in the dark, TRUSTING Him to light the path bring companions who will journey with me. I also learned that once I reached the top (what I think is the destination), the journey wasn't over. It really had just begun. I also needed to climb down the mountain to deliver the story God had given me to share.
What does your TRUST factor look like? Are you TRUSTING or grumbling? Are you equipping yourself for the journey God has you on through good stewardship of your heart, mind, and soul? Are you sharing your story?
Commit EVERYTHING you do to the Lord – TRUST Him – and He will help you. Psalm 37:5
I will TRUST in Him and not be afraid – the Lord God is my strength and my song; He has given me victory. Isaiah 12:2
Carol Duberowski
Regional Representative
Contact Carol: https://fmffinancial.org/carol/