Saturday |  September 19, 2020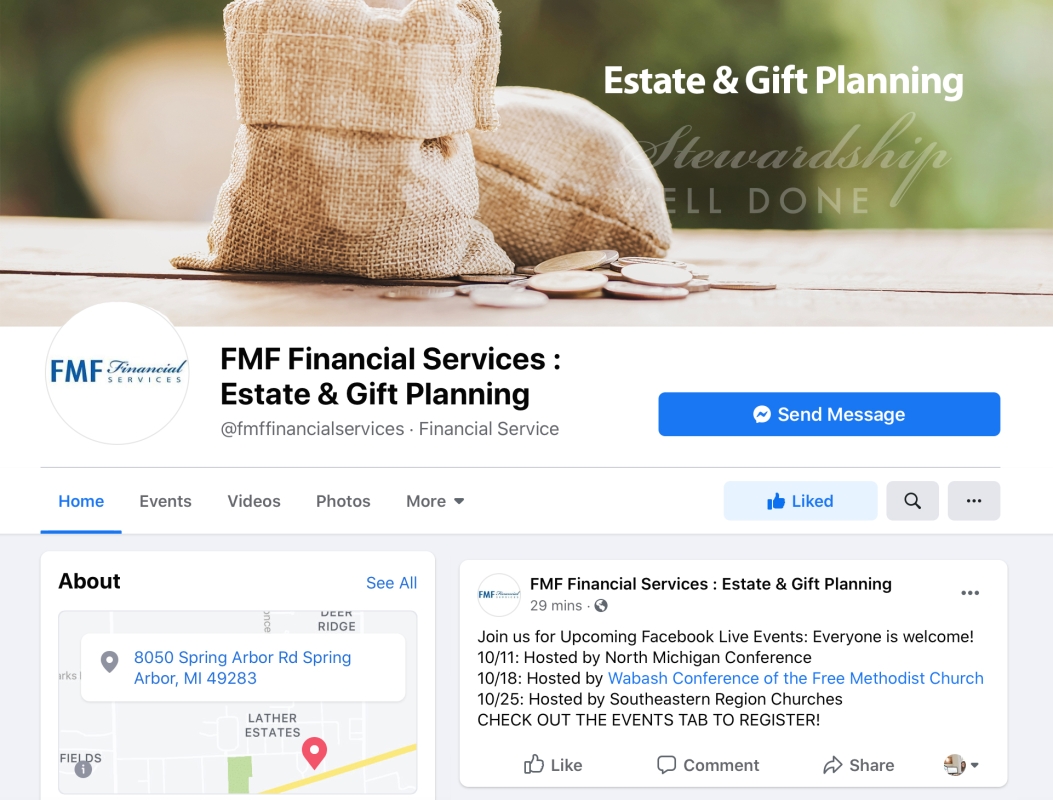 We have been busy updating our Facebook page with new information for you! In addition to posting articles on various estate and gift planning topics, we are adding a number of virtual Facebook events in the near future.
WE NEED YOUR HELP!
In order to spread our stewardship message to a wider audience, we need your help! Would you please consider:
LIKING our page (FMF Financial Services : Estate & Gift Planning)
INVITING your Facebook friends to LIKE our page
SHARING articles that are of interest to you
ATTENDING one of our events?
What is a Reverse Mortgage?
What can you tell me about reverse mortgages? The damage to my retirement account from the coronavirus has me considering it but want to make sure I know what I am getting into.
Read More »
Married Couples and Property
Mary was a surviving spouse. She and her first spouse, Ryan owned a lovely home and placed it into joint tenancy with right of survivorship. After Ryan passed away, Mary met Logan and they were married.
Read More »
The Retirement Unitrust
Mary grew up on a farm. When her parents passed away, she inherited the farm. Now, several developers would like to build homes on the farmland.
Read More »
Sale and Unitrust
Gene and Carol purchased stock in a small medical service company several years ago. Now, Gene and Carol are looking for a way to save taxes.
Read More »
Content from Crescendo Interactive. 
CONTACT US TODAY TO BEGIN THE CONVERSATION
We believe that with effective counsel and financial management, each person can multiply the impact of the resources entrusted to their care.
Monday: 8:00am – 5:00pm
Tuesday: 8:00am – 5:00pm
Wednesday: 8:00am – 5:00pm
Thursday: 8:00am – 5:00pm
Friday: 8:00am – 4:00pm
Saturday: Closed
Sunday: Closed
8050 Spring Arbor Rd
PO Box 580
Spring Arbor, MI 49283
(517) 750-2727: phone
(517) 750-2752: fax